Payroll Optimization & Automation
A Win-Win for Employers & Employees
Free FDIC Insured, Same Day Pay & Digital Banking Solution
Boost Employee Satisfaction, Retention, & Reduce Turnover Rates/Costs
Streamline Payroll, Save Time, & Gain Efficiency

What Do We Do?
How Do We Do It?
Who Is The Service For?

What We Do:
We offer a FREE, efficient solution that enables employers to pay their workforce promptly. Our Same-Day Pay-Card service, coupled with a comprehensive online banking platform, grants employees immediate access to up to 50% of their earned wages. Employers gain efficiency, save money, boost employee morale, reduce turnover, and attract new talent. Our secure and FDIC-insured fast pay and digital banking system benefits employees and employers by eliminating the burdensome fees typically associated with traditional financial institutions.
How We Do It:
We've established strategic partnerships with industry veterans with over 20 years of experience from renowned institutions like American Express, J.G. Wentworth, Western Union, Chase Bank, Citi Bank, and Mastercard, who have developed cutting-edge Paycard and digital banking financial solutions founded in 2019. We ensure everyone wins by leveraging state-of-the-art software, AI technology, and industry expertise!
Who We Help – The Qualifications:
This service is available in the USA (including all 50 states), Puerto Rico, and US Territories. Eligible organizations must have a minimum of 250 employees, and access is available to employees 16 years and older.
Industries We Serve:
We collaborate with a diverse range of industries, including but not limited to:
Retail
Manufacturing
Quick Service Restaurants (QSR)
State Governments, Cities, and Municipalities
School Districts and Colleges
Nonprofit organizations
Healthcare/Medical
Construction
Bus Companies
And more!
Key Features for Employers with a Large Workforce
1. Earned Wage Access: Give your employees up to 50% of their earned wages before payday, with no fees for next-day transactions and only a fee of $2.95 for immediate access. The best part? We fund the advance, not you. If there's ever an over-payment, we absorb the loss, not your business or your employees.
2. Everything is FREE: Enjoy a cost-free solution for employers and employees. Our compensation comes from processing fees paid by banks on the back end.
3. Digital Account: Our digital financial services platform empowers employee financial wellness by giving them control over their finances anytime, anywhere. It offers exceptional features and tools, often surpassing traditional banks.
4. FDIC Insured: Rest easy with $250,000 in insurance coverage per account.
5. Free Visa® Debit Card: Issue Visa debit cards at no cost, without requiring credit checks, usable wherever Visa is accepted.
6. Bill Pay: Benefit from FREE next-day and scheduled bill payments and a low fee of $2.95 for immediate same-day processing.
7. Send Money: Send money quickly and cost-effectively, with FREE next-day transactions and a $2.95 charge for immediate transfers.
8. Direct Deposit: Enjoy free, instant direct deposits into any bank in the USA.
9. ATM Access: Access ATMs worldwide and enjoy two no-fee ATM withdrawals per month.
10. Mobile App: Access our intuitive and secure mobile app for free, available on both Apple and Android devices.
11. Employee Satisfaction: Boost employee retention, reduce turnover costs, and attract new talent with our fast pay and free digital banking system. Up to 100% acceptance and instant enrollment.
12. Instant Hire Activation: Cards available on-site for immediate use.
13. Other Cards: Offer various card options, including gift/incentive cards, virtual and physical cards, and one-time or recurring disbursements.
14. State Program Support: Our system is compatible with state programs such as relief, housing, subsidies, SNAP, TANF, Foster Care Family, Unemployment, Disaster Support, and more.
15. Campaigns: Utilize our referrals and incentives modules to drive engagement and participation.
16. Management Tools: Access communication and management modules to streamline operations.
17. Turnkey Program: Benefit from superior data integration and API connectivity to third parties. Implementation is simple and fast, seamlessly integrating with your existing systems.
18. Triple Lock Security: Rest assured with robust data protection, fraud prevention, and secure funds processing safeguards.
19. Customer Service: Enjoy free 24/7 access to digital assistants and live human representatives.
Discover the industry's most comprehensive PayCard and Digital Banking Solution!
This solution is already benefiting top firms and governments within the USA. Below are just a few. There are millions using the system and millions more to come. Will you be one who benefits?


State of Georgia Example
Department of Human Services
1 Billion Dollar Cash Assistance Program
Supporting Medicaid, SNAP, Peachcare for Kids and TANF recipients.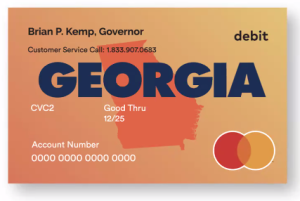 Why Choose Our Payroll Automation & Optimization Service?
We revolutionize payroll management for large organizations.
Here's why we're your top choice:
1. Unparalleled Benefits for Employees: We empower your workforce with Earned Wage Access, allowing them to access up to 50% of their earnings before payday with minimal fees. Plus, we absorb any over-payments, so there's zero risk for your business.
2. Zero-Cost Solution: Our service comes at no cost to both employers and employees. We're compensated through backend processing fees, ensuring you enjoy true financial transparency.
3. Cutting-Edge Digital Banking: Say goodbye to traditional banking hassles. Our digital financial platform offers a suite of powerful tools and features, often surpassing what traditional banks provide.
4. Maximum Security: Rest easy with FDIC insurance, secure funds processing, and robust data protection.
5. Employee Satisfaction & Retention: Boost employee morale, reduce turnover rates, and attract new talent with our fast pay and financial tools. With up to 100% acceptance and instant enrollment, your employees will love the convenience.
6. Comprehensive Features: We cover everything from bill payments to direct deposits and Send Money options. Plus, we support state programs and offer versatile card solutions.
7. Seamless Integration: Our system seamlessly integrates with your existing processes, ensuring a smooth transition with minimal disruptions.
8. Exceptional Customer Support: Enjoy 24/7 access to digital assistants and live human representatives at no cost.
9. Industry Leader: We've partnered with industry experts from renowned institutions, bringing unmatched expertise and experience to your payroll process.
Choose the most robust Payroll Automation and Optimization Solution in the industry. Discover efficient, cost-effective, and employee-friendly payroll management like never before. Unlock the future of payroll today.
There are absolutely ZERO Cost for employers and employees. We get paid by the banks on the back end. There is Zero Risk to learning more, setup a meeting and learn more today!
Requirements For Us to Help You
This service is available in the USA (including all 50 states), Puerto Rico, and US Territories. Eligible organizations must have a minimum of 250 employees, and access is granted to employees aged 16 years and older.
Our streamlined process ensures efficiency and minimal involvement from your side.
1. Intro Meeting:
Time: 15 minutes or less
Goals: Establish alignment on basic information and schedule a Discovery call with experts for further details to make an informed decision.
2. Discovery Call:
Time: 30 minutes or less (additional time available if needed)
Goals: Provide comprehensive service details, equip you with necessary information for due diligence, and determine the next steps together.
3. Implementation:
Customized approach based on each organization, typically up and running in 10 days or less.
We handle the heavy lifting, making it quick and easy for you.
Why Act Now? The Cost of Waiting.
Every day you delay, it can cost you big money and employees.
Here's why:
Efficiency Loss: Every day you delay, you're losing efficiency and financial resources.
Talent Drain: Delaying means you're missing out on the best talent in the market.
Employee Satisfaction: Waiting could negatively impact employee satisfaction and retention rates.
Don't Miss Out! Join the Cutting-Edge Payroll/Paycard Revolution Today!
Give Your Employees Access to Cutting Edge Financial Tools and Make Your Business More Appreciated and Valuable. You Can Lose – It's Free!
Set Up an Introduction Meeting
for Our Payroll Optimization &
Automation Solution
Click the button below to access our calendar or contact form. From there, you can schedule the introduction at your convenience or contact us as needed. We look forward to speaking with you!